PRICES include / exclude VAT

Antibacterial Face Mask of NANO fabric
Antibacterial face mask made of NANO material creates a mechanical barrier thanks to a special three-layer structure and effectively protects you from 99.98% of dangerous bacteria
DESCRIPTION
Exclusive EU Shipping - only 4,99 EUR now!
 5 Pack - Three-layer face mask with nanomembrane
Antibacterial face mask from NANO material is a certified medical device ISO 13485:2016
The three-layer structure creates a mechanical barrier and effectively protects against dangerous bacteria. 
Special NANO technology provides protection against airborne viruses and diseases like a special respirator.
Delivery time EU: 2 days 
Short describing:
Face mask from NANO material                            
Antibacterial
40 wash cycles
Country of origin: Vietnam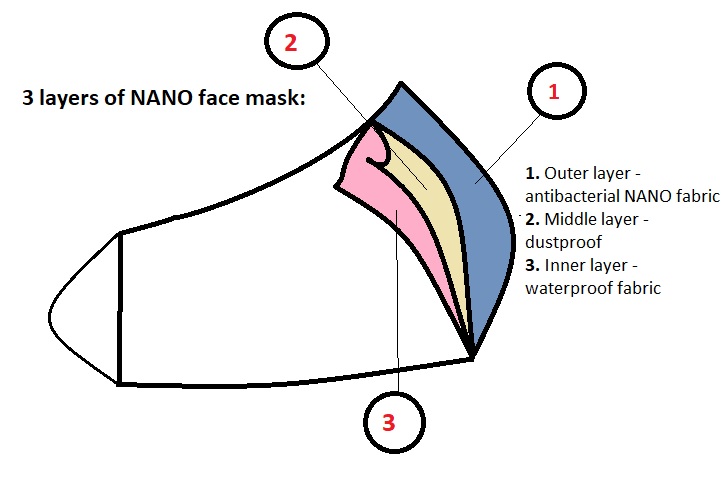 Benefits of NANO face mask:
3D stability, no crease, same shape even after 30 washes
lightweight and breathable
It is very suitable for allergy sufferers, asthmatics and immunocompromised people
The mask perfectly wicks sweat and damp and dries quickly
It is recommended for sports and outdoors activities too
Cleaning and maintenance
The antibacterial effect remains after 40 cleanings, i.e. after 40 uses. The face mask can be washed in lukewarm soapy water and dried at room temperature.
You can add a disinfectant for washing baths too. 

   Size of Face Mask

Head circumference

cm/inch

 M (better for woman)
  45-55 / 17-21
 L  (better for man)
  55-65 / 21-25
Don´t wash in the washing machine!! 
CERTIFICATES