PRICES include / exclude VAT
in stock
Released: 2016-2023

Set VDA 6.1-6.5
QM - System Audit. Certification requirements.
QM - Systemaudit. Zertifizierungsvorgaben.
VDA 6.1;VDA 6.2;VDA 6.3;VDA 6.4;VDA 6.5
English Hardcopy
in stock
350.00 USD
Buy including changes
German Hardcopy
in stock
350.00 USD
Buy including changes
| | |
| --- | --- |
| Standard number: | Set VDA 6.1-6.5 |
| Released: | 2016-2023 |
DESCRIPTION
Revised set of Standards VDA 6.1 - 6.5 includes: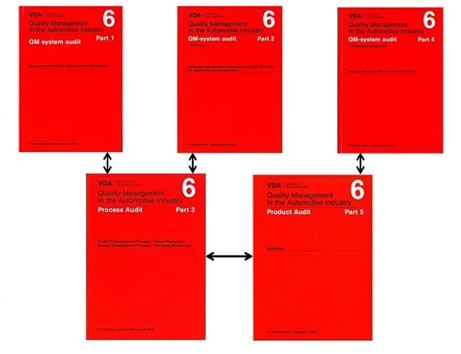 VDA 6.1:2016 - QM - system audit - Serial production 

Based on ISO 9001:2015

The 5th edition of VDA 6.1:2016 is a basis for internal quality system audits (1st-party), customer / supplier audits (2nd party) and for certification audits (3rd party). Perform certification bodies, the 3rd-party audits, may issue a VDA 6.1 certification amendment, if approved by the VDA. The volume contains a list of questions to assess a quality management system and the associated assessment system. The application is provided primarily in companies that produce tangible products.

VDA 6.2:2017 - QM System Audit- service 

The requirements for ISO 9001: 2015 as well as the revised requirements for the industry in 2016 are valid for VDA Volume 6, Part 2 "QM-System Audit Service", also referred to as VDA 6.2.

Compliance with these additional requirements when designing a QM system for a service organization is essential for successful collaboration between all involved parties.

As an additional benefit, the fact that service organizations can obtain VDA 6.2 certification helps automobile manufacturers and their suppliers choose the right service organization.

VDA 6.3:2023 - Process Audit - New edition

Globally recognized and established Process Audit standard VDA 6.3/2016 has been completely revised. Deployed in IT systems around the globe and Aligned with other standards such as IATF 16949. The objective was to re-organize the process audit, making it more precise and adapting it to changing requirements in the automotive industry.

The interaction of the process audit standard VDA 6.3 with other VDA publications, especially "Maturity Level Assurance for New Parts (MLA)" und "Robust Production Processes (RPP)", has been strengthened. In this volume the requirements are given for process specific content.  

VDA 6.4:2017 - QM System Audit- Production Equipment 

3rd edition of VDA 6.4 : 2017 Production equipment (resources) are one of the most important success factors in the automotive industry. The quality of the means of production and tools as well as the cooperative cooperation with the customer is at the center of this branch-specific rules. The renewal of the VDA 6.4 regulations was initiated by the publication of ISO 9001: 2015, as this specific set of rules is based on ISO 9001.

It supports the quality management systems of the vehicle manufacturers and their system and parts suppliers. 

VDA 6.5:2020 - Product Audit - Guidelines 

The product audit is one of the oldest methods which give a statement on the quality of products prior to their delivery to the customer. It assesses the effectiveness of quality assurance through the examination of a small number of products and/or parts and confirms the quality capability of the production process based on the quality of a product. Thereby, it is verified whether the product complies with the given specifications and/or special customer/supplier agreements.

 

 DISCOUNT: 35,00 EUR
SET of VDA 6.1 - 6.5 and other VDA Standards are not available in PDF format
Related products
English Hardcopy
In Stock
166.66 USD
German Hardcopy
in Stock!
166.66 USD
English Hardcopy
in stock
72.22 USD
German Hardcopy
in stock
72.22 USD
English Hardcopy
In stock
66.66 USD
German Hardcopy
In stock
66.66 USD
English Hardcopy
In stock
105.55 USD
German Hardcopy
In stock
105.55 USD
English Hardcopy
In stock
72.22 USD
German Hardcopy
In stock
72.22 USD
English Hardcopy
In stock
72.22 USD
German Hardcopy
In stock
72.22 USD
English Hardcopy
In stock
77.78 USD
English Hardcopy
In stock
54.45 USD
English Hardcopy
In stock
233.34 USD
English PDF
Immediate download
587.78 USD
English Hardcopy
in stock
587.78 USD
French PDF
Immediate download
587.78 USD
French Hardcopy
in stock
587.78 USD
Spanish PDF
Immediate download
587.78 USD
Spanish Hardcopy
in stock
587.78 USD
English Hardcopy
In stock
77.78 USD
Customers who bought this item also bought